---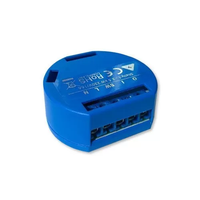 Sale
Shelly 1 Smart Home Automation WiFi Switch Compatible with Alexa and Google Home
Schedule Function: Set timer and countdown, create scenes, you can set timer schedules to automatically turn on/off your light, fans, or appliances according to your daily habits with the 

Shelly 1 Wifi Switch

. For example, you can set the corridor lights to turn on when you come back home at night and to turn off when you leave home

Voice Control: Shelly 1 Wifi Switch works with Alexa, Google Home and IFTTT, instead of reaching for switch button every time, you can easily turn on/off the home appliances by your voice command, no hub required, create scenes on Alexa or Google Home, very convenient especially when your hands are full

App Control from Anywhere: You can control light, router, fans, TV, coffee maker or any other appliance under 16A/3500W remotely with a single press on the mobile app Shelly even you're away. No hub required, compatible with most Wifi routers (only with 2.4GHz wireless network)

Group Control: Create a group for all smart relays for one press control, one smart relay can be controlled by multiple mobile phones, share it with your family, everyone can control it easily. Perfect for hard-to-reach appliances & devices without ON/OFF switches

Compact Design: Compact smart relay switch can be installed in the junction box and make your outlet and switch smart, while retaining manual control buttons. An essential accessory for your home automation system.
WiFi-operated Relay Switch
Control a wide range of home appliances and office equipment (lights, power lines, garage doors, curtains, security systems, heating radiators, air conditioners, etc.)  from anywhere with the smallest WiFi-operated relay switch.
Shelly 1 Wifi Switch Open Source
has an embedded webserver
has been designed for installation in a limited space, such as wall mounts, electrical control panels, etc.
can function as a standalone device, as an accessory to a home automation controller, or it may be used as another automation system's component.
POWER
Power supply AC
110-230V ±10%, 50/60Hz
Power supply DC
12V, 24 – 60V
SPECIAL FUNCTIONS
Dry contacts
Yes
Roller shutter mode
No
Device temperature protection
No
Overload protection
No
Power measurement
No
Working without a neutral line
No
FEATURES
Channels
1 Channel
Maximum load
16A
Operational temperature
-40 to + 40 °C
Device power consumption
< 1 W
Intelligent On/Off
Yes
Local and remote control
Yes
Sunrise/Sunset
Yes
Weekly Schedule
Yes
UL Listed option
Yes
CONNECTIVITY
Wireless/WiFi Protocol
802.11 b/g/n
Radio-frequency
2400 – 2500 MHz
Radio signal power
1mW
Range
up to 50 m outdoors and up to 30 m indoors (depending on the building materials)
DIMENSIONS
Size
41mm x 36mm x 17mm
Shelly 1 Wifi Switch how to install video: